Milwaukee Area Dentist
Provides Painless Solutions for Missing Teeth
Ross Dental replaces multiple missing teeth with healthy smiles
We often hear from people who need to replace multiple missing teeth but are putting off treatment because of the cost, fear of a painful procedure or uncertainty about which option will work best.
Dr. Ross takes the time to explain the differences between tooth implants, full or partial dentures, bridges and other tooth replacement procedures so you can make an informed choice. Ross Dental is the Milwaukee area's top-rated dental clinic for restorative and cosmetic treatments.
Contact us online or call today to schedule a tooth replacement consultation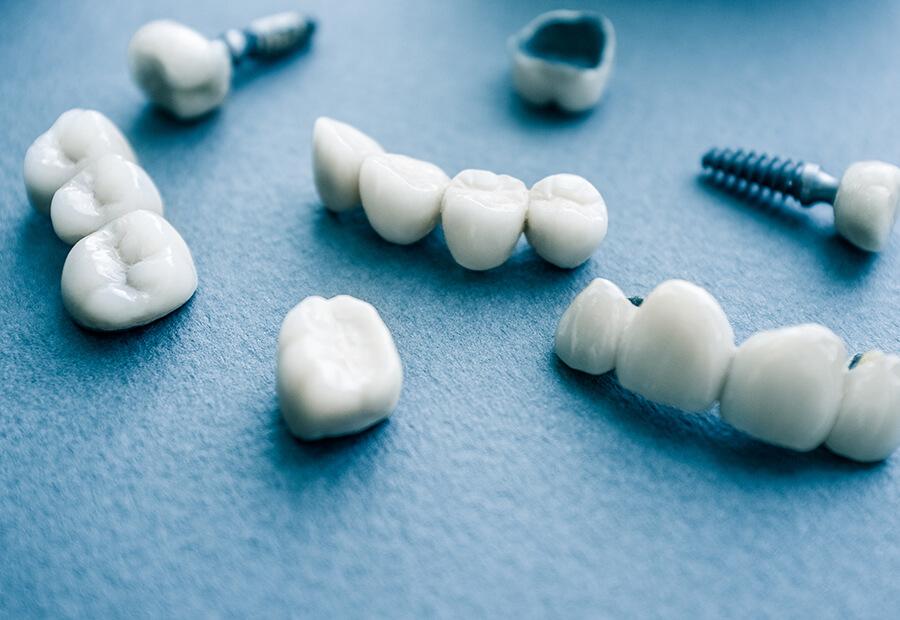 Multiple Tooth Replacement Options at Ross Dental:
No matter how you decide to replace your missing teeth, at Ross Dental you'll find caring professionals dedicated to restoring your healthy, carefree smile.
Implants are a near-permanent solution when replacing one or more missing teeth. They are also the most cost effective and can last a lifetime. It has been agreed upon in the dental community that dental implants are the most cost-effective and permanent solution for replacing your complete dentures.
However, if the missing teeth are isolated, a dental bridge could be a potential solution. Another solution could be partial or complete dentures. When meeting with Dr. Ross, it's important to understand the differences between implants and dentures for replacing multiple teeth.
Dental Implants Permanently Replace Missing Front or Back Teeth
Dental implants look and feel the most like natural teeth, and are a permanent solution for two or more missing teeth. Dr. Ross is a highly experienced tooth implant specialist making implants painless and affordable for patients living in Milwaukee, Waukesha, Brookfield, New Berlin and the surrounding communities.
What do multiple dental implants cost?
The cost of multiple tooth implants depends on the patient and the number of appointments and procedures required. In Wisconsin, the cost can range from $2500 to $5000 and higher. We urge you to schedule a consultation to find out if tooth implants are right for you, and to receive a personalized estimate.
Tooth Implants vs Bridges
Tooth implants can support individual crowns or support a bridge. Dental bridges can also be anchored by your natural teeth.
Dental bridges are less expensive than dental implants. On the other hand, tooth implants are a more reliable long-term solution. With a skilled dentist performing the procedure and proper oral hygiene habits, you can enjoy your tooth implants for the rest of your life. A bridge, on the other hand, lasts about ten years.
Tooth implants also protect your remaining natural teeth. If a dental bridge is supported by natural teeth, they have to be prepared, which means losing healthy tooth tissue. Dental implants preserve as many of your remaining natural teeth as possible.
Dental Implants Vs Dentures
Partial and complete dentures are effective when replacing missing teeth. The denture itself is a pink-colored base, and in partial dentures, metal clasps help hold onto your surrounding teeth. Over time, the natural teeth connected to metal clasps may deteriorate due to the redistribution of pressure. Loss of nearby teeth could also be possible. Complete dentures don't require grinding down nearby teeth, are less expensive, and are a faster way to replace multiple missing teeth. When installed, the denture itself may interfere with your speech and eating. It also won't look as natural or function as well as dental implants. While dental implants are a prominent solution for replacing missing teeth, dentures remain a very effective solution for many patients.
Get a consultation for replacing multiple missing teeth
Living with missing teeth compromises your health by limiting your ability to eat well and puts remaining teeth at risk of drifting. There is no one right way for every person to replace missing teeth. Every case is unique, and Dr. Ross will consider not only the number of missing teeth but your age, preferences, budget and other factors before recommending a procedure.
Ross Dental Services in Southeastern Wisconsin
Ross Dental in New Berlin & Waukesha serves patients from locations throughout southeastern Wisconsin, including:
Milwaukee, Brookfield, West Allis, Wauwatosa, Muskego, Pewaukee, Greenfield, Hales Corners, Franklin, Elm Grove, Mukwonago, Big Bend, North Prairie and Wales.