Full Mouth Dental Implants
Cost & Considerations
Full-mouth tooth implants from Ross Dental will restore your smile and your confidence. Dr. Dan Ross is a top-rated implant dentist and instructor at Marquette University School of Dentistry. Ross Dental has cutting-edge technology, sedation dentistry and a truly caring staff to make every visit and procedure efficient and anxiety-free. Ross Dental is the best resource for dental implants in Milwaukee and the surrounding cities.
Full Mouth Dental Implant Costs
The cost of full-mouth dental implants is $28,000 per arch or $56,000 for "full mouth." There are alternatives as well, that come with considerably less cost. Cost depends on whether you choose to get individual tooth implants to replace each tooth, fixed dentures or opt for a combination of tooth implants and a fixed bridge. In Wisconsin, a single-tooth implant costs between $3,000 and $6,000 on average, but this amount varies based on the type of implant and how many appointments and procedures are required. Insurance typically covers $1,000 to $1,500, reducing your costs.
Contact Ross Dental for a Quote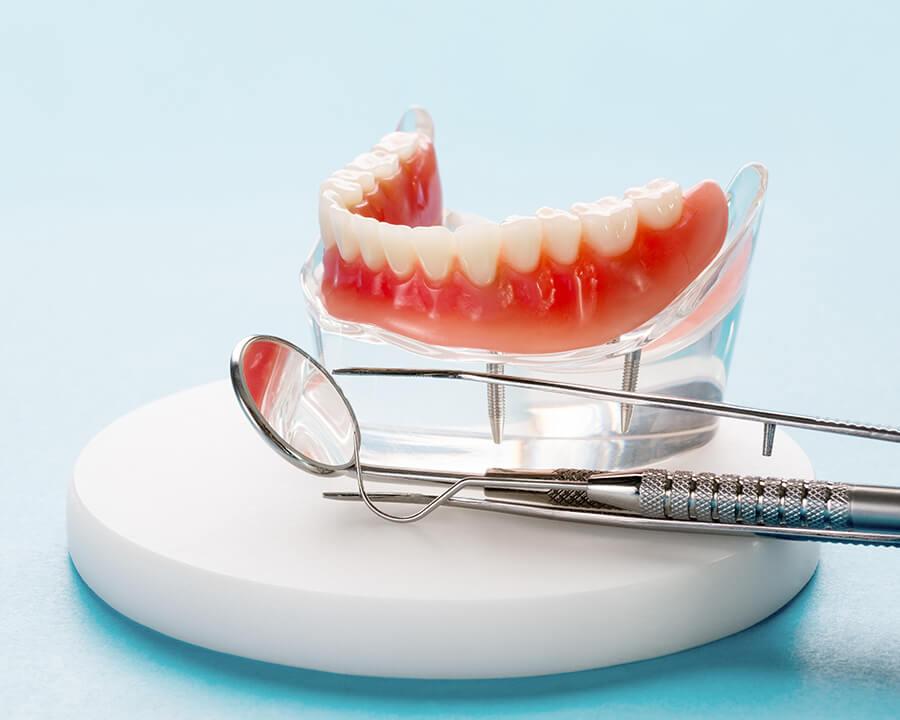 Your Options for Replacing a Full Mouth of Missing Teeth
Dentures or full-mouth dental implants?
Many patients who have received full complete dentures have found them to be uncomfortable. You have probably noticed discomfort, difficulty eating and talking or shifting and clicking when moving with your complete dentures. It may be time for a change. Replacing your entire mouth with dental implants provides many benefits over dentures:
Stability
Improved speech and appearance
Easier eating
Reduced daily maintenance
Longevity of replacement
Many patients who need a full-mouth dental implant procedure have had dentures in the past. A viable solution to restore your teeth is the all-on-four technique. This strategically places tilted 4 implants to minimize bone grafting. You'll also receive a fixed provisional bridge on the day of surgery. Ross Dental understands the potential limitations of implants, bridges and dentures. We're committed to providing you with complete information and a comfortable environment for the procedure.
Does insurance cover full-mouth dental implants?
Most dental insurance will not completely cover the cost of your full-mouth dental implant: the allotted money in your dental insurance plan typically covers up to $1,500 in basic procedures and checkups throughout the year. However, some dental insurance plans and medical insurance will cover the cost of full-mouth dental implants. Contact Ross Dental to speak with an associate to go over your specific coverage plan.
Contact Ross Dental to speak with an associate to go over your specific coverage plan.
Affordable dental implants with CareCredit payment plans
No dental insurance? No problem—apply for CareCredit to receive quick coverage based on your credit score. CareCredit covers all sorts of medical and dental procedures for you or the whole family. Apply today to see what kind of coverage you can get at Ross Dental.
Learn More About

Bad credit? No credit? Still no problem.
We're real people here, we get it, and we've been there. Everybody deserves great teeth—if you don't have credit to apply for CareCredit, then take advantage of our payment plan solutions. Just speak with an associate to go over a payment plan that works for you and your budget.
What is a Full Arch Replacement Procedure?
Full-arch replacement is a dental replacement procedure perfect for patients who have lost a large number of teeth. The practice involves using dental implants that attach to prosthetic teeth with screws, creating a stable and natural-looking set of tooth implants for your whole mouth. Your new implants will look, feel, and function just like the real thing. A full arch restoration is usually the best option when patients are missing most or all of their teeth.
Why Choose Full Arch Replacement Over Dentures
Many patients who need tooth replacements opt for full or partial dentures that can be removed. However, the jawbones can lose mass and weaken over time due to the loss of implanted teeth. In severe cases, patients may even require bone grafting before a procedure like full-arch replacement can be done.
Full-arch replacement prevents bone loss by giving your jaw more weight and allowing it to respond to stress naturally. You may require as few as four dental implants to support all your new prosthetic teeth for your upper or lower jaw. Contact Ross Dental today to find out if a full-arch replacement is right for you.
Replacing Individual Teeth
If you are missing multiple teeth but not most or all of them, individual dental implants may be a better option for you. You can get any number of individual tooth implants installed to replace any teeth in your mouth. If you're missing several teeth that are next to each other, you can also opt for a dental bridge. Dental bridges can be supported by 2 or 3 dental implant posts so you don't have to get an individual post installed for each tooth. It is also sometimes possible to affix a dental bridge to your existing teeth, eliminating the need for implant posts. Which procedure is best for you? Contact Ross Dental to schedule an appointment and we'll give you the best possible recommendation.
We are proud to provide full-mouth dental implants in the cities of New Berlin, Muskego, Waukesha, Milwaukee, West Allis, Brookfield, Wauwatosa, and more.