Dental Crowns, Caps & Bridges
near Milwaukee
Restorative dentistry is what many consider traditional dentistry: filling cavities, installing crowns and bridges, providing root canals and dentures — things that take your oral health back to tip-top shape. Each of our services, including dental implant restoration and sedation dentistry, is provided by an experienced team.
You'll feel comfortable and relaxed in our care. At Ross Dental, we endeavor to be as transparent as possible. We'll help you understand the related costs and results while answering any questions you may have.
Contact Ross Dental for a Quote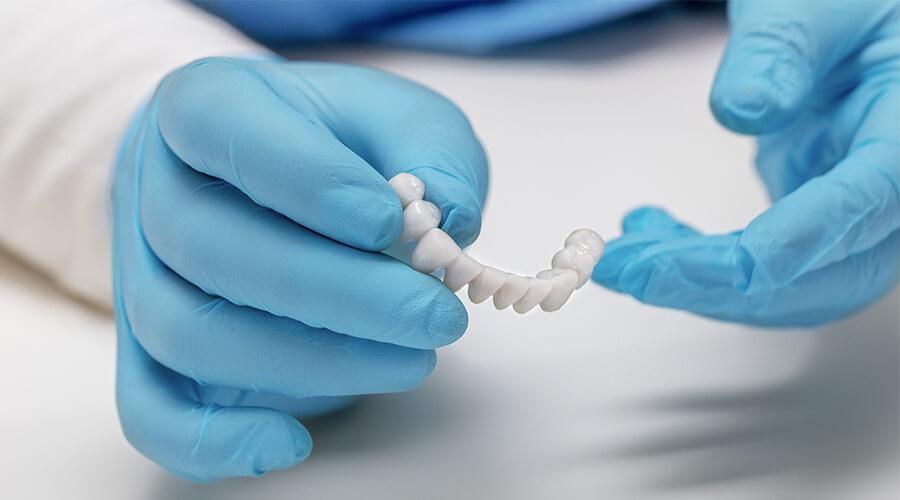 Dental Bridges vs. Implants - Which type is right for me
When it comes to major dental trauma, bridges and implants are popular restorative options. But which one should you get?
Dental Bridges
Shields multiple teeth using a series of crowns
Short, minimally-invasive procedure
Less painful than other options
At-home hygiene required flossing under false tooth
Eventually requires replacement
Dental Implants
Artificial root surgically implanted & Connected to a crown
Longer, more invasive procedure
Longer recovery time
Allows you to practice oral hygiene as usual
implants last a lifetime
Average Cost of Dental Bridges in Wisconsin
In Wisconsin, traditional dental bridges typically cost between $2,000 to $5,000 on average, while implant-supported bridges can cost $5,000 to $15,000. Your actual costs will vary based on your insurance coverage, the type of bridge received, and how many teeth need replacing.
Cost of Dental Crowns in Wisconsin
The average cost of a dental crown in Wisconsin ranges between $1200 and $2000. Some factors influence your final cost, including the kind of crown you receive and whether your dental insurance offers coverage for the procedure.
Accepted Insurance at Ross Dental
We accept a wide variety of insurance coverages for all of our restorative dental procedures costs.
Does insurance cover bridges & crowns?
Most dental insurance will not completely cover the cost of your bridge or crown: the allotted money in your dental insurance plan typically covers up to $1,500 in basic procedures and checkups throughout the year. However, some dental insurance plans and medical insurance will cover the cost of bridges & crowns. Contact Ross Dental to speak with an associate to go over your specific coverage plan.
Contact Ross Dental to speak with an associate to go over your specific coverage plan.
Bridges & Crowns without insurance
No dental insurance? No problem—apply for CareCredit to receive quick coverage based on your credit score. CareCredit covers all sorts of medical and dental procedures for you or the whole family. Apply today to see what kind of coverage you can get at Ross Dental.
Learn More About

Bad credit? No credit? Still no problem.
We're real people here, we get it, and we've been there. Everybody deserves great teeth—if you don't have credit to apply for CareCredit, then take advantage of our payment plan solutions. Just speak with an associate to go over a payment plan that works for you and your budget.
Why do I need a crown or a bridge?
If you have a damaged tooth needing repair, a crown or bridge may be your best option for restoration. Our Milwaukee-area restorative dentist may recommend a crown to alleviate several dental problems, including:
Restore a fractured tooth
Protect weak teeth from fracturing
Replace a filling when not enough tooth remains
Attach a bridge
Cover discolored/misshapen teeth
Cover a tooth treated by a root canal
CEREC Same-Day Crowns
Choose Ross Dental and you can get a high-quality, custom crown in just 1 visit. We use digital 3D scanning and CAD/CAM dentistry (Computer-Aided Design/Computer-Aided Manufacturing) to make precision-engineered crowns for a perfect fit. Our super natural-looking crowns and ceramics are milled at our very own office, letting our experts have a hand in every stage of the process.