Transform Your Smile with Porcelain Veneers
in Waukesha & New Berlin
Porcelain veneers are thin porcelain shells shaped and bonded to the front of your teeth. High-quality porcelain veneers are as strong as your original tooth enamel and incredibly natural-looking. Porcelain veneers are a popular cosmetic dentistry choice for straighter, whiter teeth and are commonly used by celebrities to achieve a perfect-looking smile. They last longer and resist stains better than composite veneers, giving you a long lasting, beautiful smile.
Now patients at Ross Dental can benefit from CAD/CAM dental technology with CEREC® one-day veneers. You can complete substantial cosmetic treatments in a single convenient visit!
Contact Ross Dental for a Quote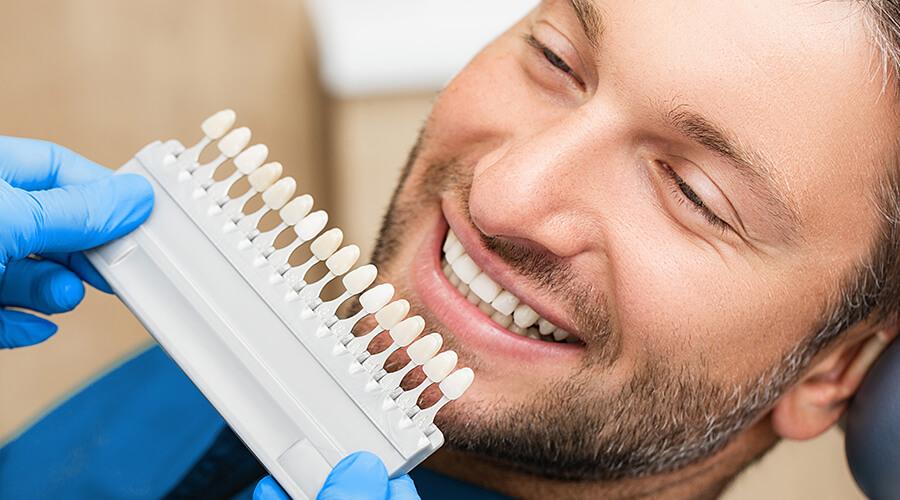 Benefits of Porcelain Veneers
Porcelain veneers are one of the fastest and easiest ways to fix:
Discolored teeth (from root canal treatment, excessive fluoride, or other causes)
Worn-down teeth
Chipped or broken teeth
Misaligned, uneven or awkwardly shaped teeth
Gaps between teeth
Dental Veneers Cost & Insurance Coverage
A common question is, does insurance cover veneers? Typically, cosmetic dental procedures are not covered by insurance. We offer other payment options for dental veneers. You should check with your insurance provider to fully understand the coverage of your specific dental plan to determine if your cosmetic dental services are covered.
Ross Dental accepts the following insurance plans:
How much do veneers cost in Wisconsin?
A veneer can cost as little as $1,030 and as much as $1,370 per tooth. Long-lasting porcelain veneers cost more than composite alternatives and will cost more.
Contact Ross Dental to speak with an associate to go over your specific coverage plan.
Porcelain veneers without insurance
No dental insurance? No problem—apply for CareCredit to receive quick coverage based on your credit score. CareCredit covers all sorts of medical and dental procedures for you or the whole family. Apply today to see what kind of coverage you can get at Ross Dental.
Learn More About

Bad credit? No credit? Still no problem.
We're real people here, we get it, and we've been there. Everybody deserves great teeth—if you don't have credit to apply for CareCredit, then take advantage of our payment plan solutions. Just speak with an associate to go over a payment plan that works for you and your budget.
Porcelain Veneers vs Composite Veneers
There are two types of dental veneers available: porcelain veneers or composite veneers. While porcelain veneers are made in a lab from a mold of your teeth, composite veneers are affixed to your teeth in one visit. The application of composite veneers is similar to that of dental bonding, where resin is applied over the front of the tooth. Composite veneers are more affordable than porcelain but are susceptible to staining. Composite veneers typically last 4-8 years compared to 10-15 years for porcelain.
The Veneer Process
Schedule a free consultation.
Learn about the procedure, cost, insurance coverage and durability of porcelain veneers. We'll make sure you have all the information you need to feel comfortable and confident about your new veneers and payment method.
Prepare your teeth.
During your cosmetic consultation, we'll make an impression of your teeth, providing precise measurements for the shaping and forming of your porcelain veneers. Preparing your teeth for an application involves removing some enamel from the tooth surface, and some reshaping. The amount of enamel removed is equal to the thickness of the veneer.
Schedule your veneer appointment.
In just one visit, Dr. Ross will apply veneers to your teeth, instantly whitening your smile. The procedure is tailored to your unique situation, ensuring the smile you leave with is the one you've always wanted. This procedure is pain-free, and you'll leave our dental office with a smile you are proud of!
Our Qualifications
Dr. Ross teaches dentistry at Marquette and is immersed in the latest and best methods in modern dentistry. Our comfortable, convenient location in New Berlin means less overhead than a high-rent highrise in Milwaukee.
We make porcelain veneers for people in the cities of New Berlin, Muskego, Waukesha, Milwaukee, West Allis, Brookfield, Wauwatosa, Oak Creek, Menomonee Falls and more.