Brighten Your Smile with Teeth Whitening
in Waukesha & New Berlin
Tooth discoloration affects everyone: Coffee, soda, red wine and even fruits and veggies can leave teeth stained and unattractive. At Ross Dental, our expert cosmetic dental team helps you feel confident in your teeth. From the initial consultation to the procedure itself, our teeth whitening process is built to do one thing: make you smile.
Find Your Brightest Smile through Teeth Whitening
Our teeth-whitening services are pain-free, long-lasting and personalized to make you look and feel fantastic. With a variety of procedures and price ranges available, we put bright smiles within everyone's reach. Our affordable teeth whitening services are available throughout Waukesha County and the Milwaukee metro area. Learn more about our teeth whitening services below, or contact us today for more information.
Contact Ross Dental for a Quote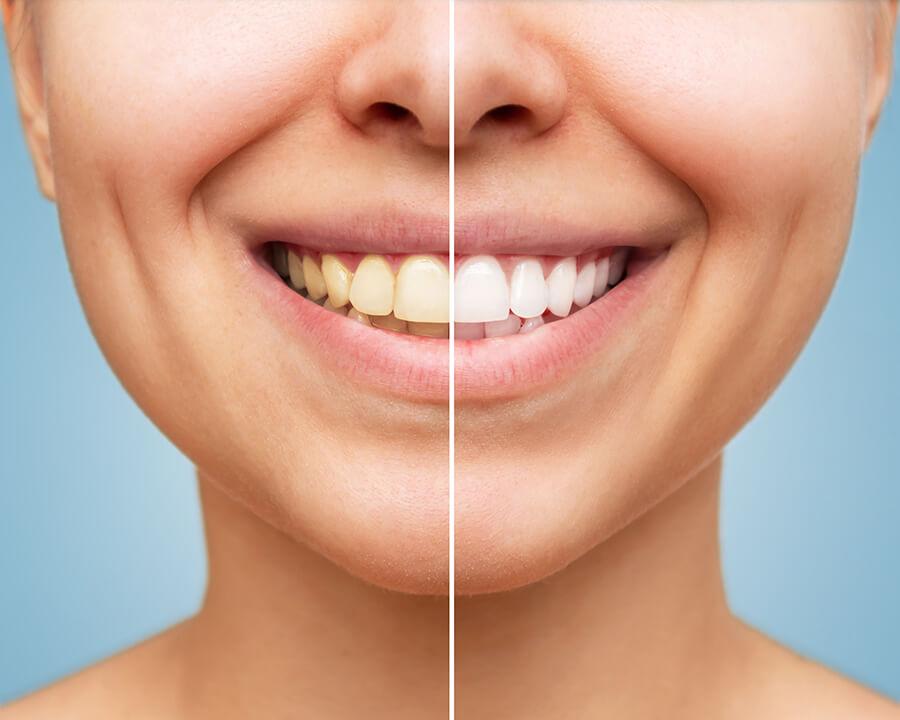 Professional Teeth Whitening Cost
At Ross Dental, we believe a confident smile should fit in any price range. Unlike take-home teeth whitening kits, our teeth whitening methods are quick and effective, providing you with immediate, lasting results. We work to find the best price point for your desired outcome, stain level, and budget. Based on these factors, we provide individually-tailored price points to make sure we're doing what's best for you. With our free consultation, have all your questions answered, and work out the costs before your treatment!
Average Prices (Not Fixed):
Cost of bleaching trays: Under $100
Cost of whitening strips: Under $100
Cost of take-home trays: Around $400
Cost of in-office bleaching: Around $450
Cost of consultation: FREE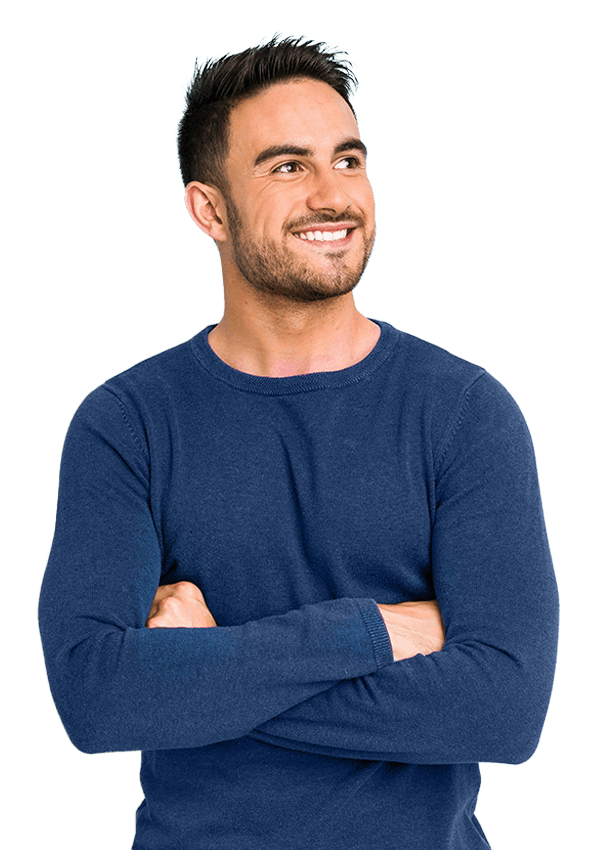 What Causes Stained Teeth?
Stained teeth result from a variety of factors, including dietary choices, poor oral hygiene and lifestyle habits. Inadequate dental care, such as infrequent brushing and flossing, allows plaque and tartar to accumulate, causing teeth to discolor over time. The most common causes of stained teeth are:
Dietary choices
Dark-colored beverages
Acidic foods and sugary snacks
Lifestyle habits
Smoking and tobacco use
Poor oral hygiene
Aging / Genetics
Medications
Excessive fluoride
Benefits of Professional Teeth Whitening
Teeth whitening is a procedure designed to brighten your smile and increase your confidence. Having your teeth professionally whitened hosts several health and cosmetic benefits, including:
Immediate effects
DIY teeth whitening can take months for your teeth to lighten - if it even works. With Ross Dental, our teeth whitening services can brighten your smile by up to eight shades in a single visit.
Increased comfort
People who use drugstore whitening kits report more long-lasting sensitivity than in-office patients. When you professionally whiten your teeth, you save yourself months of potential discomfort.
Personalized treatment
Teeth whitening isn't a one-size-fits-all process. At Ross Dental, you receive custom-made trays and treatments designed to whiten your teeth—no one else's.
Customized shades
With professional teeth whitening, you choose your desired shade. Our team of experts works together to get you there, providing you with the exact results you ask for, every time.
Lost-lasting results
Unlike store-bought teeth whiteners that typically last mere months, professionally-whitened teeth can stay bright for up to 3 years after whitening.
Credit Cards for Health and Beauty Services
At Ross Dental we know how important your smile is. We accept CareCredit and offer CareCredit payment plans. CareCredit is a credit card for health and beauty services. Get the dental care you need and deserve!
Visit the CareCredit website if you need dental payment assistance, and apply and get approved from the privacy of your own home. When you're all set, contact Ross Dental for your appointment!
In-Office Teeth Whitening Procedure
Each teeth whitening is unique, meaning no single procedure applies to them all. Depending on whether you choose take-home or in-office teeth whitening, the exact process can vary. Take-home strips and trays are applied and discarded according to your desired shade, and specific instructions are given based on brand and quantity. Ross Dental takes multiple factors into account when prescribing take-home whitening kits, such as desired shade, current shade, tooth sensitivity and budget.
Teeth Whitening Process
During in-office whitening, a protective layer is applied to your gums, followed by a whitening gel applied directly to your teeth. The active ingredient in this gel is peroxide, which allows oxygen to access your enamel, resulting in a whiter, brighter color. The gel is washed off after 15-30 minutes and can be repeated to achieve your desired whiteness. In-office whitenings can lighten your teeth by up to eight shades in a single visit!
Teeth Whitening Side Effects
The most commonly reported side effect following teeth whitening (both in-office and at home), is increased tooth sensitivity. While using at-home whitening strips can cause permanent sensitivity, symptoms should go away within a few days after in-office whitening.
5 Steps to Prevent Tooth Sensitivity After Whitening
If you have sensitive teeth or are worried about having sensitive teeth after whitening, there are several steps you can take to lessen potential discomfort:
In the days leading up to and following your whitening, use sensitivity toothpaste (like Sensodyne)
Before your appointment, take an anti-inflammatory
Avoid excessively cold food and liquids until symptoms fade
Use a soft-bristled toothbrush
Don't brush your teeth immediately after whitening
Ross Dental provides teeth whitening services in the cities of New Berlin, Muskego, Waukesha, Milwaukee, West Allis, Brookfield, Wauwatosa, Oak Creek, Menomonee Falls and more.
Teeth Whitening FAQ
Contact Ross Dental for an appointment or cosmetic consultation.
Should I Whiten My Teeth?

If you want noticeably whiter teeth with less sensitivity than at-home whitening, professional teeth whitening may be for you. Teeth whitening is primarily a cosmetic procedure, meant to increase confidence and self-esteem. In many cases, teeth stains are unavoidable. Aging, certain foods and even medication can cause your teeth to lose their luster. Some people use professional teeth whitening as a confidence boost during special occasions, but the vast majority view professional whitening as a chance to reclaim their smile. If you're unsure about teeth whitening by a dentist or have questions, contact us to schedule a free consultation.
How much does teeth whitening cost in Wisconsin?

The average cost for professional in-office teeth whitening treatment in Wisconsin ranges between $99 to $599. The price will depend on the type of teeth whitening you choose, the expertise of the dentist and the hygienist, the Wisconsin office location, the number of sessions required and any follow-up treatments you will receive.
Can teeth whitening damage your teeth?

The peroxide solution Dr. Ross uses is completely safe when used properly. All whitening products use bleaching chemicals to brighten the color of your teeth, which can make your teeth more sensitive. If you already have sensitive teeth or are concerned about sensitivity caused by teeth whitening, contact Ross Dental to go over the benefits and risks of your procedure.
Is Teeth Whitening Covered by Insurance? 

Insurance companies typically do not cover cosmetic services like teeth whitening. Ross Dental is dedicated to keeping our prices as low as possible to minimize the financial stress this might cause. We offer free quotes and CareCredit payment plans to keep your costs low - and your smile bright.
Is it worth getting my teeth whitened at the dentist's? 

Absolutely! Professional teeth whitening offers a host of dental and cosmetic benefits. Store-bought whitening kits often use harsh ingredients, which can lead to permanent tooth sensitivity and even root damage.