Dental Implants for New Berlin, Waukesha & Milwaukee Area Patients
What Are Dental Implants?
A dental implant is an artificial root made of titanium surgically implanted into your jawbone. The titanium post fuses with the bone and provides a strong and stable foundation. Your dentist then places a crown onto the implant.
Affordable, quality tooth implants at Ross Dental will match the shape, size and color of your natural teeth. Dental implants can also support a bridge or denture with multiple teeth.
Dental implants are the next best thing after natural teeth. You'll be able to eat, drink and talk normally, and you'll never want to hide your smile in a photo again!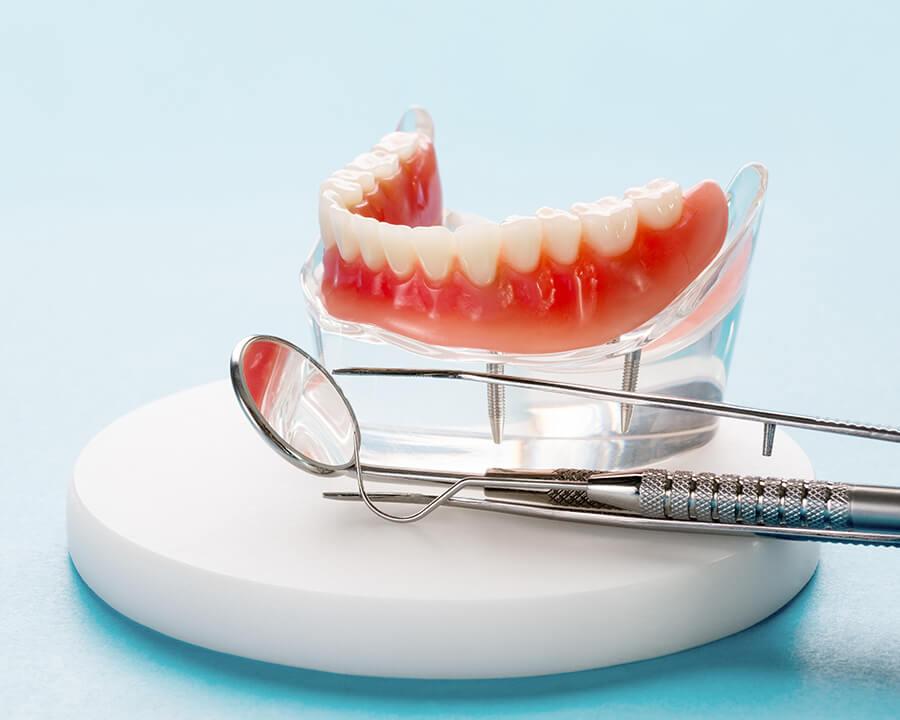 All-On-4
All-on-4 dental implants is a cutting-edge tooth replacement technique that combines tooth implants and dentures. If you are missing all of your upper or lower teeth, All-On-4 is the comprehensive solution so you do not need a tooth implant for each and every one.
Four carefully placed implants (two in front, one on each side) secure a full arch of replacement teeth. This minimizes the cost, time and amount of surgery needed to restore your smile.
All-on-4 is sometimes referred to as implant supported dentures or implant supported bridges.
Mini Dental Implants
Mini dental implants work the same way as regular dental implants but are smaller. Mini tooth implants work well for small spaces and can support most types of crowns. They can also be used to stabilize dentures. Mini dental implants are often recommended when a temporary or fast solution is called for.
The mini dental implant procedure is less invasive and generally heals more quickly. Individuals with significant bone loss who don't qualify for standard implants may be able to get mini dental implants.
Because mini tooth implants are not as well supported by the jawbone, they are not as secure and durable as regular implants. Bruxism (tooth grinding) can damage mini implants more easily.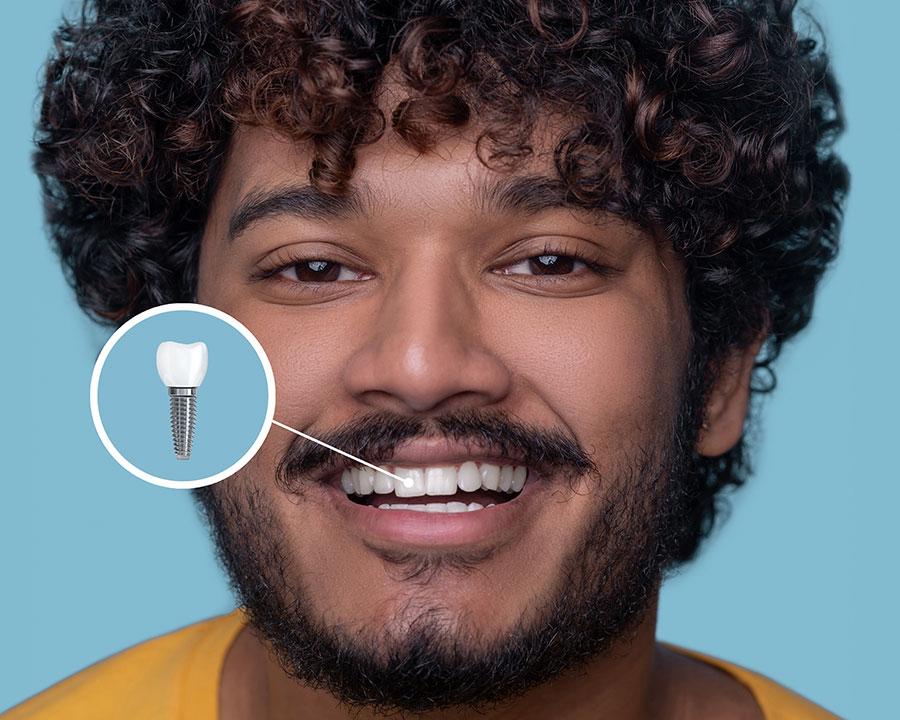 Do I Need Dental Implants?
When you are missing a tooth, the teeth around it bear additional stress from chewing. Some patients compensate for their missing tooth by chewing on the other side of their mouth. This can lead to TMJ disorder, causing your jaw bone and muscles to weaken.
People who are good candidates for dental implants are:
Generally healthy. Patients who are ideal for new dental implants have healthy gums and enough bone density to properly hold the implant. You must also be able to take care of your dental implants, practice good oral hygiene, and have regular dental checkups. People with uncontrolled diabetes or any autoimmune disorder are not recommended to get dental implants, as these conditions impair your healing ability. If you have gum disease, it must be treated before a dental implant procedure is possible.
Non-smokers. Smoking has a negative effect on your body's ability to heal and on your immune system, so smokers must be able to stop smoking during the dental implant process. Smoking increases your risk of infection and implant failure.
Adults. Dental implant surgery can only be done on a fully developed jaw. There is no set minimum age for a dental implant patient, but generally no younger than seventeen. Every person is different. X-rays can determine if the level of bone development is enough to qualify.
Good news for older patients: there is no upper age limit to receive dental implants. Don't limit your enjoyment with a partial smile or limited jaw and mouth function. Getting dental implants at an older age is very common, and can drastically improve your quality of life. Contact Dr. Ross for more information about seniors and dental implants!
Benefits of Dental Implants
Modern dental implants have been in use for over 30 years, and have been proven as a safe and effective method for replacing missing teeth. Dental implant surgery has an extremely high success rate, and if cared for properly, dental implants can last a lifetime.
Dental implants enhance self-esteem, allowing you to eat, speak and smile with ease. The durability of a well-placed dental implant provides you with the following benefits:
Solid foundation for easier chewing
Improved functionality, speech and appearance
Improved long-term oral health
Can last from 15 years to a lifetime
The main advantage of dental implants is their ability to replace missing teeth, without trimming the neighboring teeth. Bridges, which are an alternative to implants, require grinding and shaping of nearby teeth. Implants do not require further altering of other teeth.
Unlike other restorations, dental implants actually act as an artificial tooth root and protect the healthy bone in your jaw. Neighboring teeth will also be protected by the implant because it keeps them from drifting (which happens if a tooth is missing).
3 Ways Dental Implants Protect Your Health
Missing teeth can cause serious health problems. Tooth implants look and function just like natural teeth. Dental implant surgery has a track record of long-term, reliably positive outcomes.
Tooth implants prevent bone loss. The roots of your teeth stimulate the jaw bone. When one or more teeth are missing, the jaw bone begins to deteriorate which makes talking and chewing progressively more difficult. Dental implants can stop deterioration and stabilize bone levels.
Tooth implants help your remaining teeth stay healthy. All the teeth in your mouth need one another to maintain correct positioning. A missing tooth causes its neighbors to drift toward the empty space, resulting in misalignment of your bite. Teeth in the lower jaw depend on the upper teeth for proper placement. A missing tooth can cause an opposing tooth to become loose.
Tooth implants let you eat, drink and speak naturally. Missing teeth limit what you can chew and eat, and your whole health suffers. Dental implants are the next best thing to your own natural healthy teeth.
Dental implants also help you maintain the natural shape of your face and smile, preventing the sunken-in look common when multiple teeth are missing.
Got missing teeth? Stop missing out! Schedule a consultation with Dr. Ross to find out if you're a good candidate for dental implants.
Risks Associated with Dental Implants
A dental implant procedure is a surgery, and all surgeries come with risks. Risks include infection, injury, implant rejection or sinus problems, which should be taken into account in patients with weakened immune systems. Dr. Ross is an experienced dental implant dentist and wants you to be comfortable throughout the whole process.
If you have any questions or concerns, you can learn more about Dr. Ross's reputation for exceptional dental care. Other minor disadvantages are how comfortable the procedure is and the time required. The degree of comfort is closely related to getting a tooth pulled. As for time, the dental implant procedure is longer than a regular checkup, but worth it in the end.
Most failed attempts at dental implants are the result of inexperienced dentistry. By choosing a qualified expert like Dr. Ross, implant failure is incredibly rare.
The benefits of getting quality dental implants at Ross Dental include:
Minimal gum or bone loss
Excellent aesthetics
Maximum longevity
No need for special toothbrush
Affordable, professional care
Ross Dental Services in Southeastern Wisconsin
Ross Dental in New Berlin & Waukesha serves patients from locations throughout southeastern Wisconsin, including:
Milwaukee, Brookfield, West Allis, Wauwatosa, Muskego, Pewaukee, Greenfield, Hales Corners, Franklin, Elm Grove, Mukwonago, Big Bend, North Prairie and Wales.