Apply For
Smile Like You Just Don't Care – Because You Don't!™
Cosmetic Dentistry Services from Leading New Berlin Dentist
Improving Smiles throughout Waukesha and Milwaukee Counties with Cosmetic Dental Procedures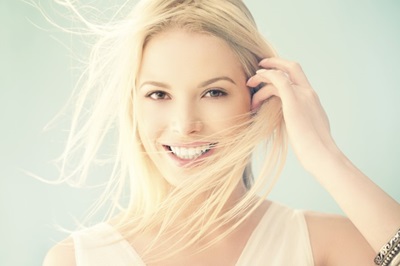 Keep your smile bright and beautiful with cosmetic dental services from Ross Dental. We offer teeth whitening, consultations, porcelain and bonded veneers to patients throughout New Berlin and the surrounding communities. Many patients experience anxiety before a dental appointment, however at Ross Dental, there's no need to fear any procedures – we offer sedation dentistry ensuring maximum comfort and minimum anxiety. Stop by today for a consultation and get the bright, beautiful smile you've always wanted.
Teeth Whitening Services
We offer fast, affordable teeth whitening services to keep New Berlin's smiles beautiful. Remove stains from yellowed teeth and reverse the effects of wine, coffee - even smoking. Don't waste time and money on messy, ineffective at-home teeth whitening kits. In just a single visit, Ross Dental will give you a bright, beautiful smile.
Porcelain Veneers
Porcelain veneers from Ross Dental are an ideal solution to fix and straighten your smile. Porcelain veneers are handcrafted porcelain shells, which cover existing teeth. Each set of veneers is custom-made to fit your smile. Reverse chipped or cracked teeth and deep stains, revealing a lasting beautiful smile. Made of durable minerals, similar to your natural teeth, porcelain veneers have a long lifespan, with proper care, your veneers will resist stains and other wear for up to 20 years. Best of all, veneers can be applied in one simple visit.
Bonded Veneers
Bonded veneers are an affordable alternative to porcelain veneers. Bonded veneers won't last quite as long, but they will instantly improve your smile. Bonded veneers from Ross Dental offer the same quality improvement to your smile at a fraction of the cost of porcelain veneers. Bonded veneers are also applied in one simple visit, making them fast, easy, and affordable.
Cosmetic Consultation
Many of our New Berlin patients worry about the cost of cosmetic dentistry consultations, but at Ross Dental it never hurts to ask! We offer free cosmetic dental consultation to all of our patients, working with you to determine the best option available to improve your smile.
Service with a Smile from our Cosmetic Dental Team
Ross Dental has proudly helped New Berlin residents get the bright beautiful smile they've wanted for years. We've utilized sedation dentistry to offer a comfortable, anxiety-free experience. Whether you need teeth whitening, consultation, porcelain or bonded veneers the experienced staff at Ross Dental will walk you through every step of the process with a smile, ensuring your comfort and satisfaction.
Contact our New Berlin dental clinic for more information about cosmetic dentistry.