Apply For
Smile Like You Just Don't Care – Because You Don't!™
Affordable Dentures for Milwaukee Area Patients
Ross Dental of New Berlin - Best Dentist for Dentures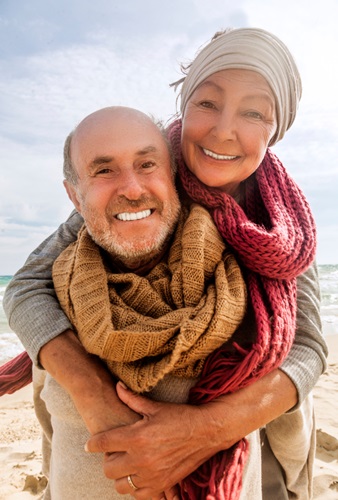 Affordable, comfortable dentures from Ross Dental give Milwaukee area patients something to smile about.
Whether you are missing a few teeth or have no teeth at all, dentures are an effective solution to restoring your natural smile and full functionality of your mouth. Dentures created by Ross Dental are practical, customized and comfortable. Eat, smile and talk knowing your dentures are secure when my friendly team is caring for you and your teeth.
When planning for your dentures, I measure your mouth to ensure the custom made dentures perfectly fit your mouth and gums, eliminating the hassle of dentures that don't fit correctly and the associated pain and discomfort.
CONTACT ROSS DENTAL Make an Appointment
Dentures Review from Ross Dental Patient: "I CAN EAT ANYTHING NOW"
"Things were getting pretty gloomy there with the dentures, they were bulky, loose and painful and I hated them, but after the final fit AWSOME, I can't even describe the change.
We took a trip to Nevada this weekend and I was leery about eating. I actually have not eaten out for close to a year because it was embarrassing trying to eat.
So I went for the buffet: Salad, prime rib, nachos, hot dogs, chicken, pineapple, cannoli's, shrimps, nuts, sunflower seeds, pea pods, apple slices, pizza, hamburger, more things than I can mention.
It has been over a year since I was able to eat a salad!
I don't know if you would want to put "I CAN EAT ANYTHING NOW" on you website, but going from really bad teeth to really good dentures is beyond description. It is like rediscovering every form of food.
Actually I ate everything and anything I wanted to eat...with no adhesives!! I haven't needed to use any adhesives yet they just stick in there.
It is almost a "food depression" I was going through, but now that they actually fit they are not so bad at all.
A few sore spots here and there but they should go away in time. It used to be a process, mouth had to be wet, teeth needed to be dry.
Now I just pop them in in the morning and I don't need to clean the rubber out of my mouth every night!
So THANKS!!! It is almost a life changing event."
--John A. MacKay
Choosing Between Partial or Complete Dentures
Depending on your unique needs, either partial or complete dentures will be required. Partial dentures replace some of your natural teeth while complete dentures replace all of your teeth. Both denture types are designed to look exactly like your natural teeth, maintaining or improving your smile. If adjustments are needed, they can be done quickly and easily by our dental professionals.
Considering implants? Ross Dental is the Milwaukee area's best implant dentist. Learn more about the cost of dentures vs. implants or contact us for a consultation.
Benefits of Partial Dentures in Waukesha County, WI
Like complete dentures, there are several advantages to partial dentures. Partial dentures can:
Replace missing teeth
Improve your chewing
Help treat TMJ
Improve your speech
Give you more self-confidence
What about the cost? Are dental bridges & crowns covered by insurance?
YES! At Ross Dental we accept a wide variety of insurance coverages for all of our restorative dental procedures. Dentures usually cost around $300 to $500 for a single plate or $600 to $1,000 for upper and lower dentures. Your actual costs will depend on the condition of your teeth and how many teeth need replacing. Schedule a free consult with Dr. Ross to discuss all your options to restore your smile.
Some common dental plans we service include:
Some dental insurance plans have a 12-month waiting period, but unfortunately, toothaches don't wait around to bother you until you have those benefits. That's why we offer affordable payment plans to provide you with the dental healthcare you need when you need it.
CareCredit is a beauty and health credit card that can help you if you need dental payment assistance. Go to their website and apply and get approved from the privacy of your own home.

If you don't have insurance and don't have the credit to apply for CareCredit, come discuss your dental care payment options with Dr. Ross. We'll set up a
personalized payment plan
just for you, we assure that you'll be smiling when you leave our office.
If you are not sure dentures are the right choice for you, I will explain your other available options, including dental implants. We will only do what is best for you and your teeth, ensuring you receive real, effective solutions to your dental problems.
Affordable Dental Care Provided in the Greater Milwaukee Area
Ross Dental provides the best dental care in Milwaukee County and the surrounding communities of; West Allis, Brookfield, Pewaukee, Waukesha, Franklin, Muskego, Big Bend, Elm Grove, New Berlin, Hales Corners, Greendale, Mukwonago, North Prarie, and Wales.
Contact the restorative dentist New Berlin trusts for reliable dental health solutions including partial or full dentures.
Back to Restorative Services