Top-Rated Dentist for Broken Teeth
in Waukesha & New Berlin, WI
Ross Dental provides effective restorative dentistry procedures for patients with broken teeth throughout Southeast Wisconsin. Our friendly dental team is committed to providing you with stress-free dental care when you need it most. Dealing with broken teeth can be stressful and painful, and our goal is to make the entire process as comfortable as possible. We use sedation when necessary and Bose noise-canceling headphones to provide you with a pain-free and calming environment for your procedure.
How to care for a broken tooth
If you've suffered serious structural damage to a tooth, it is critical to seek dental care as quickly as possible. Even if you aren't in serious pain right away, a broken tooth can quickly become more damaged or infected and result in the tooth needing to be removed entirely.
Until you're able to see a dentist, these are the steps you should take to protect your broken tooth:
If you are in pain, you can use an over-the-counter pain reliever and a cold compress to help with pain and reduce inflammation.
Flush the inside of your mouth with warm salt water. This will help keep the tooth clean, fight inflammation and remove any debris from around your damaged tooth.
If a large piece of your tooth has fallen out of your mouth, a dentist may be able to save it if you get care fast enough. Put the piece of the tooth into warm water to preserve it and try to access dental care as fast as possible.
If you've suffered a broken tooth, contact Ross Dental right away. We act fast to inspect the integrity of your tooth and determine the best course of action to restore your natural tooth or find a suitable and affordable alternative. Once you arrive at Ross Dental, you'll be able to rest easy knowing you have access to an expert team of dentists with your best interests in mind.
Contact Ross Dental for a Quote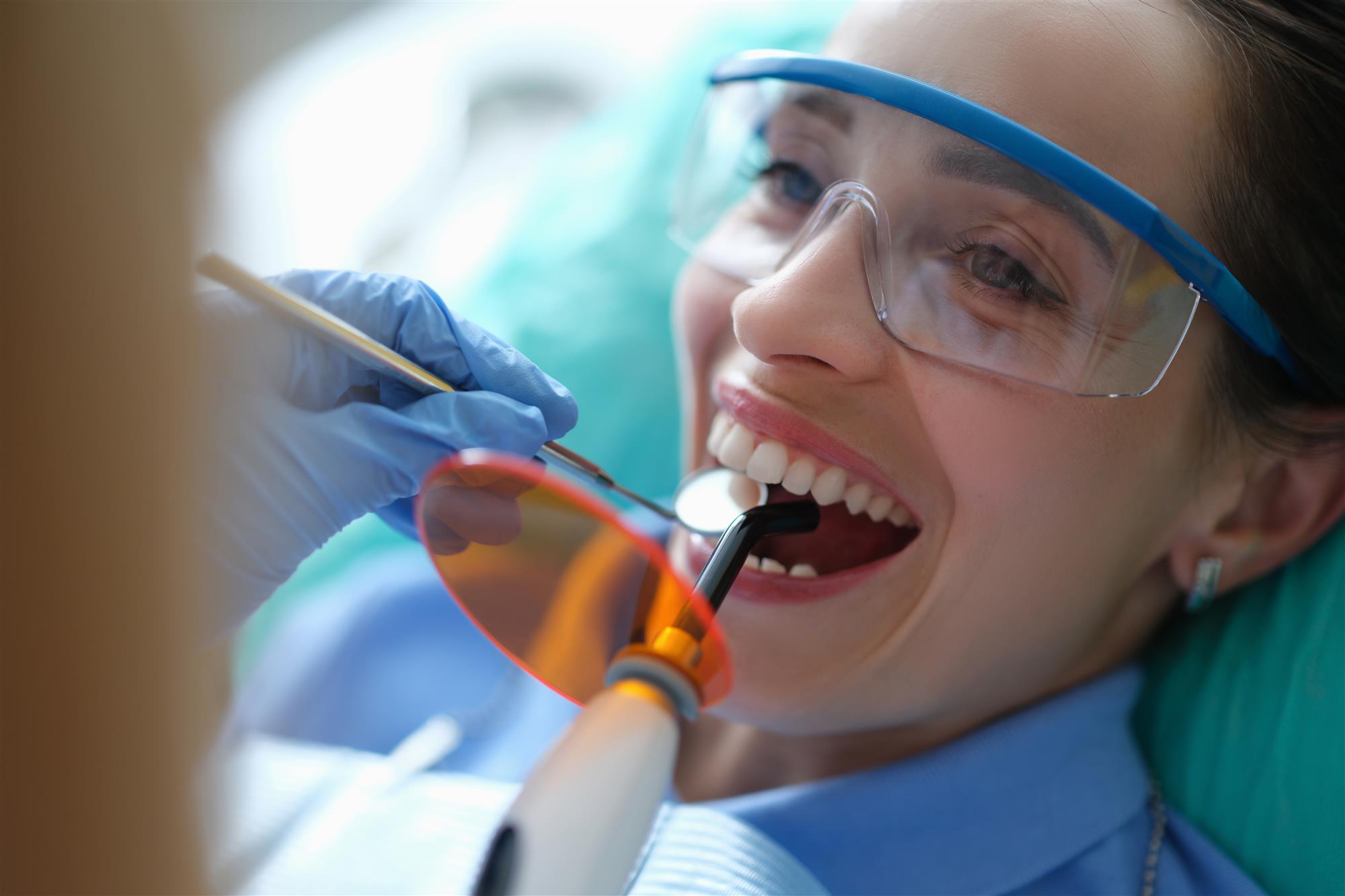 Ross Dental's Broken Tooth Solutions
The degree of damage to your tooth will help us determine the best treatment option. A small chip of the tooth enamel may only require a filling, whereas a highly-damaged tooth may require complete removal and an implant.
Our RESTORATIVE DENTISTRY Solutions for Broken Teeth
Composite Fillings: A composite resin filling is likely a viable solution for a tooth with a small chip or break. Composite fillings bond directly to your tooth and heal quickly so your tooth will be good as new in no time. The composite material we use generally lasts between five and seven years and requires less drilling to preserve as much of your natural tooth enamel as possible.
Dental Crowns: A dental crown is a solution for a tooth with too much damage to be filled in but enough structural integrity to not require full removal. The crown can be placed over the old tooth in order to protect the rest of the tooth from further damage. Crowns can be placed with a short, minimally invasive and low-pain procedure. Crowns are not permanent, and will eventually require replacement.
Dental Implants: A dental implant is a last-resort solution when a broken tooth requires total removal. An implant attaches a crown to a surgically implanted artificial tooth root and will function as a normal tooth when it's fully recovered. The implant procedure is more invasive than a crown or filling and will require a longer recovery time. Once fully healed, dental implants rarely require replacement, and you'll enjoy a comfortable, long-lasting solution to protect your oral health and create a natural-looking smile.
If you have a DENTAL EMERGENCY, don't hesitate to call us
When emergencies happen, don't risk permanent damage to your smile. If your tooth sustains sudden damage or you're in serious pain, you need a professional dental team as soon as possible. Ross Dental is ready for action when you need us with urgent, emergency dental care for broken teeth.
Please note, emergency dental care is only available for existing patients. We see patients throughout Milwaukee and Waukesha Counties. Ensure you'll always have a reliable dentist within reach and become a Ross Dental patient today!
No insurance? No problem.
Ross Dental is dedicated to promptly aiding our patients facing dental emergencies regardless of insurance coverage. We understand the urgency of broken teeth and we are always prepared to offer assistance. If you lack insurance, we provide affordable payment options to make sure you get the care you need right away.
Apply for CareCredit, an easy financing option offering coverage based on your credit score. If you aren't able to obtain CareCredit, Ross Dental offers personalized payment plans so you can receive the care you need and pay over time. Your dental health is our #1 priority, and we work to ensure your safety and well-being above all else.
Other common dental plans we service include:
No dental insurance? No problem—apply for CareCredit to receive quick coverage based on your credit score. CareCredit covers all sorts of medical and dental procedures for you or the whole family. Apply today to see what kind of coverage you can get at Ross Dental.
Learn More About

Bad credit? No credit? Still no problem.
We're real people here, we get it, and we've been there. Everybody deserves great teeth—if you don't have credit to apply for CareCredit, then take advantage of our payment plan solutions. Just speak with an associate to go over a payment plan that works for you and your budget.
Ross Dental proudly provides top-tier dental treatments for broken teeth in the Wisconsin cities of New Berlin, Muskego, Waukesha, Milwaukee, West Allis, Brookfield, Wauwatosa and beyond.