Apply For
Smile Like You Just Don't Care – Because You Don't!™
Painless Tooth Restoration and Dental Reconstruction
Ross Dental of New Berlin's painless dentistry will renew your smile
Ross Dental of New Berlin provides affordable and stress-free restorative dentistry services for patients in and around Milwaukee including Waukesha, Brookfield, Wauwatosa, West Allis, Greendale, Muskego, and the surrounding areas.
We're committed to quality comprehensive dental care, relieving your discomfort and restoring your teeth to full functionality. Our experienced, compassionate staff makes every visit as comfortable and stress-free as possible. We offer sedation dentistry and Bose noise-canceling headphones to ensure a pain-free, anxiety-free appointment.
CONTACT ROSS DENTAL FOR MORE INFORMATION
Will my insurance cover restorative dentistry? What if I need treatment and don't have insurance?
The cost of restorative dentistry is typically a popular concern with our new patients. Coverage depends on your insurance plan. Many dental insurance plans cover at least part of the cost of basic or major restorative dental care.
For patients without insurance, we can help you sign up for CareCredit so you can get the treatment you need right away and make affordable monthly payments.
Just contact Ross Dental and we'll be happy to discuss your insurance coverage and payment options. Find answers to more commonly asked questions in our restorative dentistry FAQ or get in touch!
Restorative dentistry with CEREC technology for fast, beautiful results
Now our patients can get restorative dental treatments in just one visit thanks to CEREC technology. Get a crown, veneers, onlay or inlay with no follow-up appointment required. Replace unsightly amalgam fillings with perfectly natural-looking custom dental ceramics designed and made for you in our office. Find out more about CEREC same-day dental restorations or contact Ross Dental to make an appointment.
Waukesha Area Full-Mouth Dental Reconstruction Services Include: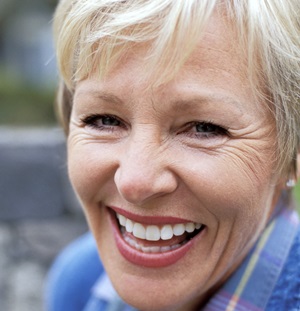 Restorative dental treatments protect your health and renew your smile!
Dental Implants
With affordable dental implants from Ross Dental, you can replace:
A single missing tooth,
Multiple missing teeth, or
All your teeth.
Dr. Ross is a dental implant specialist ensuring each patient receives quality care, a personalized treatment plan, and the best tooth implants for their needs.
Dental Crowns and Bridges
If you are suffering from a damaged tooth due to:
A fracture
Not enough natural tooth remaining to replace a filling
We may recommend a crown or bridge to cover and protect the tooth. Our team will walk you through the entire procedure, ensuring you feel relaxed and comfortable in our care. In the case of one or more missing teeth, a bridge may be recommended for repair. Learn more about the dental crown and bridge procedures offered at Ross Dental.
Composite Tooth Fillings
Composite resin is the popular choice for filling cavities. Our composite resin fillings mimic the appearance of your natural tooth, making your filling nearly impossible to see. Fillings are one of the most common dental procedures, used on children and adults alike. Our team at Ross Dental will get your teeth back on track quickly and pain-free with our composite resin filling services.
Root Canal Treatment
If a cavity goes untreated and eats through your entire tooth, the pulp of your tooth will become infected. Should this occur, you will need endodontic therapy – a root canal - to repair the pulp and regain the normal function of your teeth.
A root canal can also be needed in cases where trauma has affected the pulp of your tooth. Pain, swelling and increased sensitivity are all red flags of a possible pulp infection. Many people dread coming to the dentist for a root canal, however, my team and I provide exceptional care to each of our patients, ensuring your appointment is quick and stress- and pain-free.
Full or Partial Dentures
Dentures are a simple, effective solution to replace missing teeth and any lost dental tissue. Ross Dental will custom fit a set of full or partial dentures to your mouth, restoring your smile and the functionality of your teeth. Dentures custom-created by our team are practical and comfortable. We're always available to help answer any questions you may have regarding dentures, contact us today.
Existing Implant Restorations & Replacement
Ross Dental offers implant restoration services to patients with damaged or discolored implants due to natural aging or poor prior dental care. We'll look at your past dental history and walk you through the process, eliminating any anxiety. Restore your smile with the help of our New Berlin dental team.
Tyler C.
2016

Dr. Ross replaced an old silver filling with a new crown. He did everything possible to make it comfortable for me, even had me listen to headphones while he worked. Now for the first time in years, I can eat a steak without getting a painful piece stuck between my teeth. I would highly recommend dr Ross.
View this review on Google
Restorative Dentistry FAQ

What is considered restorative dentistry?
Restorative dentistry repairs damaged, decayed or missing teeth so you can eat, talk and smile comfortably again. Most insurers divide restorative care into two categories:
Basic restorative treatments are fillings and root canals.
Major restorative treatments include crowns, bridges, tooth implants and dentures.

Are there any benefits to having a removable partial denture rather than a fixed bridge?
There are pros and cons for both fixed and removable dental bridges. Removable dental bridges are easy to take out and clean, as you would with regular dentures. Depending on the strength and condition of the teeth surrounding the missing tooth, a removable partial denture could ease the stress on adjacent teeth by distributing the pressure across a larger surface. Age is a factor in our decision making process, as is patient preference. Consultation is encouraged.

Which type of dental crown is best suited for my needs?
The type of dental crown needed for your specific needs would be determined during a consultation. If it's an emergency, a temporary crown will be used. A permanent crown would be put in place during the next scheduled visit. Age and tooth placement are also factors in the decision making.

I shattered my tooth—what are my options for fixing it?
Depending on the extent of the damage and the location of the damaged tooth, the treatment options vary. We will either remove the damaged tooth (along with its root) and replace it with an implant, or we will put a fake tooth in its place and secure it to the adjacent teeth—called a bridge. A consultation would be required to determine the best course of action for your specific needs.

Do all cavities require root canals?
No. Normal cavities do not require root canals. Cavities are most often easily fixed with a routine filling. A root canal is only necessary if the tooth's pulp becomes infected.

Can I avoid restorative dentistry?
Yes. While cavities are quite common due to diet and aging, taking care of your mouth can greatly reduce your chances of needing more serious dental procedures. Simply brushing your teeth daily and avoiding sugary foods and drinks can do wonders for your overall oral health. Annual cleanings can help diagnose problems before they become more serious.